One of the big deals that come with the announcement of the new iPhone 3G S is the long-awaited camera upgrade. True, it doesn't do 5 megapixels, but megapixels don't always do a photo justice; you could have a 2 megapixel camera and still shoot something that looks really good. It's all in the lens, people, but with that said, does the new iPhone do much better than last time?
Perhaps.
Advertised quality. (daytime)
Real-world quality (afternoon)
Whatever the case, the photos still sure look pretty damn good. Obviously, there are phones with much better cameras out there- most likely the Cybershot phones- but the fact that the iPhone also does a decent job of automatically applying appropriate controls like white balance and macro with one touch in a certain spot you want to focus in (that is, if the reviews are to be believed), that's a bonus too.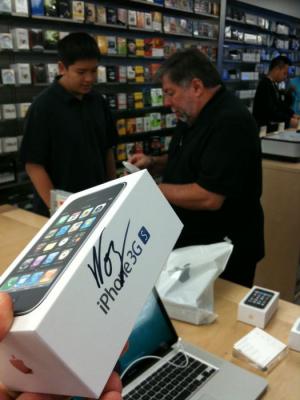 Auto-focus applied on the box.
The bigger deal is the addition of video recording to the iPhone. After two years of seeing an iPhone without video recording, it was worrying- to say the least- that other phones would follow suit (and some really did). Fortunately, Apple also makes up for the absence with not only a video editor, but also the same one-touch autofocus. True, the phone only records in VGA quality- the bare minimum- but surprisingly, the videos look quite tolerable- even if they are only on YouTube.
The audio is kind of not so hot, quite frankly. (raw file)
Tested on a wider color gamut. (raw file)
Video shot and directly sent to YouTube. (compressed over 3G)