As time passes by, rumors pop up more frequently, and some of them get confirmed. Right now, we even have an official interface for video recording as well as a digital compass.
Still, Apple naturally won't comment about these features and will only reveal them to an unsurprised audience (esp. if the audience is in the know with these rumors) in the June conference called WWDC (WorldWide Developers Conference).
1) Video Recording Confirmed
By fooling the iPhone 3.0 firmware into thinking that the present iPhone it is installed in possesses a video camera, this little screen shows up.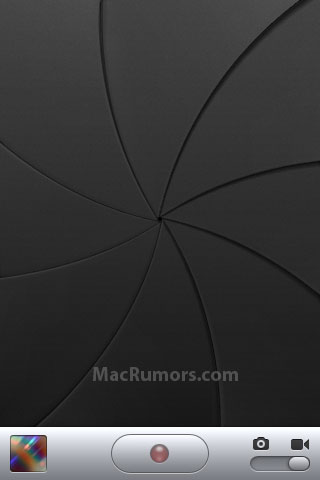 As you can see, there is now a "switch" to the lower-right side of the camera screen.
2) Camera Autofocus
By fooling around with the firmware file, hackers have also found out about several other features. One of them is "auto-focus", which would actually be a great improvement to the relatively bad 2 megapixel camera found in the iPhone, though I suspect it won't be supported in the iPhone nor the iPhone 3G.
3) More Megapixels
There's something a bit puzzling about this one, because Apple has reportedly ordered quite a few cameras, and there are two kinds: 3.2 and 5 megapixel variants, to be exact.
The 3.2 megapixel camera could either be iPhone only (while the 5MP one would be attached in an unidentified product), or the 3.2MP camera could be attached to a lower-end model of the iPhone while the 5MP one could be attached to a higher-end model so as to mark a difference besides hard drive space.
All I know is that the camera will at least get bumped up.
4) Digital Compass/Magnetometer
So what's a magnetometer? Well, it's pretty much an accelerometer on steroids. Magnetometers determine the phone's absolute position so it can open up a lot of possibilities: like being able to put 3D objects on a plane in real-time. It's like CGI on green screen minus the green screen.
A bit more helpful is being able to get an even more precise location through GPS and turn-by-turn directions.
An example:
The Nokia 6210 also has a magnetometer.
5) Bigger Storage/Stock
The world's flash memory might be in peril because Apple ordered 100 million 8Gb chips from Samsung. Basically, this might either mean a lot more stock for the 8GB and 16GB models around the world or an introduction of a 32GB model and the axing of the 8GB model.
6) Video Editing?
There might be a video editing feature in the works, although I can't imagine how it would work. Still, Sony Ericsson has a VideoDJ feature in its various phones, and it provides extremely basic video editing features. If a Sony Ericsson phone could do that, why not the iPhone?
7) Faster Wi-Fi
To complement Apple's Time Machine and Airport Express refreshes, Apple has put in support for a new chip that does 802.11n Wi-Fi, which has really fast speeds.
8) Video Answering Machine?
With a video camera on the way, Apple's patented "video answering machine" technology might just exist as a pretty innovative way to lazily answer calls.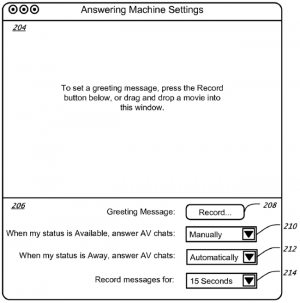 Theoretically, for the desktop Macintosh, the iChat application would be able to let you record video messages depending the status message. For example, if your status message is "Be Right Back" and a person wants to video chat with you (and you don't answer the call by just leaving the notice alone), the message you recorded for the status message will appear.
I'm not sure how this will work in the iPhone, but it would actually be pretty cool if:
1) You hang up a call and a pre-recorded video message would come out (although the caller would kill you because it would waste their load/call minutes) or;
2) iChat would be available in the iPhone with Yahoo! Messenger, AIM, G-Talk, MSN Live, and Jabber support!
This feature was actually found in an old beta release of Mac OS X Leopard and prototypes of the original iPhone.
Sources: MacRumors, C|Net